THIS IS IT. It is happening Right Now – the Age of Social Media.
1 Viral Image of Starbucks Purple Drink Coffee Cup on Instagram generated 3% more sales worldwide. (3% more for Starbucks equals Millions of Dollars Extra for them)
1 YouTube Video helped a Software company to get 193 new quality Leads in a month. And there are countless similar stories with such crazy, but real numbers.
We are going to discuss and break down one of those stories, in detail, with this Facebook Ad Case Study. How 1 Facebook Ad Video helped a SaaS company get 2.2 Million Views and 42% more Registrations than usual.
This particular Case Study was originally featured in AdEspresso.
FACEBOOK AD CASE STUDY SUBJECT

"Promo" – an Online Marketing Video Maker Tool. They provide tools and features, using which you can create Video Ads for any Social Media Platform without any hassle.-
In an attempt to reach their audience, Promo published the Following Video Ad on Facebook in 2018:
Silly little Video for a Professional Service Business. Right? Not so much. The later part of this article will make it crystal clear – why it was a 'clever' idea to use this Video instead of regular Professional Business Videos – even for this B2B Service Business.
But let the Results and Numbers speak for themselves for now.

THE GOAL OF THE VIDEO Vs THE RESULT?

The Goal of this Video Ad Campaign was to get sign-ups for the Trial. Promo just wanted people to visit their webpage and sign-up to use their tool for Free for a limited period of time. That was the Goal.
Did it perform well? Let's have a look at this –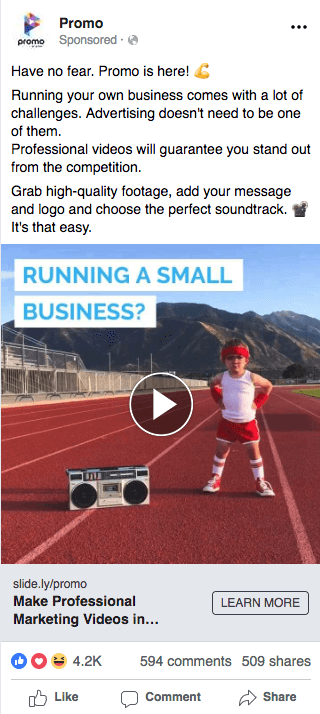 This Video Ad published by Promo gained:
2.2 Million Views
42,000 Reactions
594 Comments
509 Shares
But what about the actual Goal of this Video Ad Campaign? – Well, it actually performed far better than the regular "Professional" and "General B2B" Video Ads for Promo.
They saw a 42% increase in CTR (Click-Through Rate) compared to other more general videos. Yes, the Result = is 142% of the actual estimated figure.

Up to you now – what are your thoughts on this? Was it a good idea to share a Cute Kid Video to Advertise a Professional Service?

WHY DID THIS SUCCEED?

Let's take a moment to understand why it was a good idea to use a Cute Dancing Kid in a 'Professional' Video.
Yes, it was a demonstration for their Tool, they wanted to demonstrate – How your own Ad will look like after using Promo.com. But it performed very well for a few other reasons.
People use Facebook to take a break, to relax, to get away from work for a while – not to Work or to get stressed out.
If your ideal customers see another person talking about work on Facebook too. OR if they see something that they do not enjoy – they are most likely to scroll up on Facebook and not pay attention to your Video / Image at all.
And if this happens – your further Social Media Strategies will immediately Fail.
On the other hand, if they see something funny, cute, or something that they consider fun – they are going to stay and listen to you and your message.
Your Ad, your Post, and your Message – should be aligned with the Platform (Facebook, Instagram, LinkedIn, etc) you are advertising on.
Also, the first Text made it very clear that this Video is meant to be watched by 'Business Owners' – not for just anybody. (Thanks to Facebook's Detailed Targeting, this video was only presented in front of Business Owners)
The more targeted your Ad is, the more people will feel personally connected to it and their chances of them engaging with you gets higher.
A "Hook": Time-period of 3-5 seconds at the very beginning of any Video is very important. Cute Videos, Food Videos, Funny Videos, etc are something they are on Facebook right now.
If we want them to engage with our content, we need to give them what they are looking for. This Video does exactly the same – giving people what they are here for.

WHY DOES THIS & ANY ONLINE CONTENT WORK?

With 1.32 Billion Daily Active Users, Facebook was mostly used Social Media Platform in 2018.
Facebook is just one platform of many available out there. Instagram had 1 Billion Active users in June 2018. Twitter had 321 Million and so on. And these numbers are only growing.
Successful Businesses know that they have to adapt to their consumer's behaviors and Likings.
And as of today, their customers are on Social Media (because everyone is on Social Media). This is why, producing and promoting content on Social Media always, Always works in favor of your Business.
"We don't have a choice on whether we DO Social Media.
The question is, how well we do it" – Eric Qualman

The Businesses with No Presence on Social Media – no matter which industry they are in – are straight-out leaving money on the table.
While more than 57% of businesses worldwide are generating 90% of their profit using only the Internet (mostly using Facebook and Instagram) – not even putting enough effort to help your business grow Online will result in the slow death of your Business.

TO CONCLUDE

A single piece of Online Content – a Video – or even an Image has the potential to solve your Business's ongoing financial problems. Considering, a piece of content you are trying to promote aligns with the Social Media Platform.
It is important that the Ultimate Goal of the Campaign is clear to YOU (what action do you want your customers to take).
It is also very important to know your Right Audience – your Customer Avatar. It could be based on many factors – such as Age Group, Income Range, Locality, people belonging to certain social groups, etc, etc.
These people will be your targeted customers for such Online Campaigns.
Most Business Owners fail to answer these 2 questions. If you know the answers to these questions, your Business is ready to thrive Online. And maybe, your Business's Image or Video is the next to go Viral over Social Media.
Because once you have figured out these details and provided them to the Social Platform, let's say; Facebook – then everything will be taken care of by Facebook's Advanced Detailed Targeting.
This strategy will work, as long as you have the answers to the 2 Most Important Questions – Your Business's Goal and the Right Target Audience. So, do you have these answers for your Business?